Way back in 2009, when this site was in its infancy, and I was a fresh-faced blogger with the world at my fingertips, I did a Theme Tuesday post featuring unique local motor swaps.
The idea behind that post was two-fold; one showcase the ingenuity of local enthusiasts, and two show people the site's reach was wider than just suspension and wheels.
That post excelled at both points and actually year after year gets traffic above and beyond some of the other Theme Tuesday posts that have followed. This all means that a second round has been long, long overdue.
2JZ Jaguar XJ
This Jaguar tops the list as the most recent unique motor swaps I have come across spotted only a few weeks ago at the Trendsetters show in Brampton.
With a body that is showing its age, and somewhat dated chrome 20s, I didn't give this car a second look until I heard the faint sound of a turbo as it cruised through the show looking for a spot to park.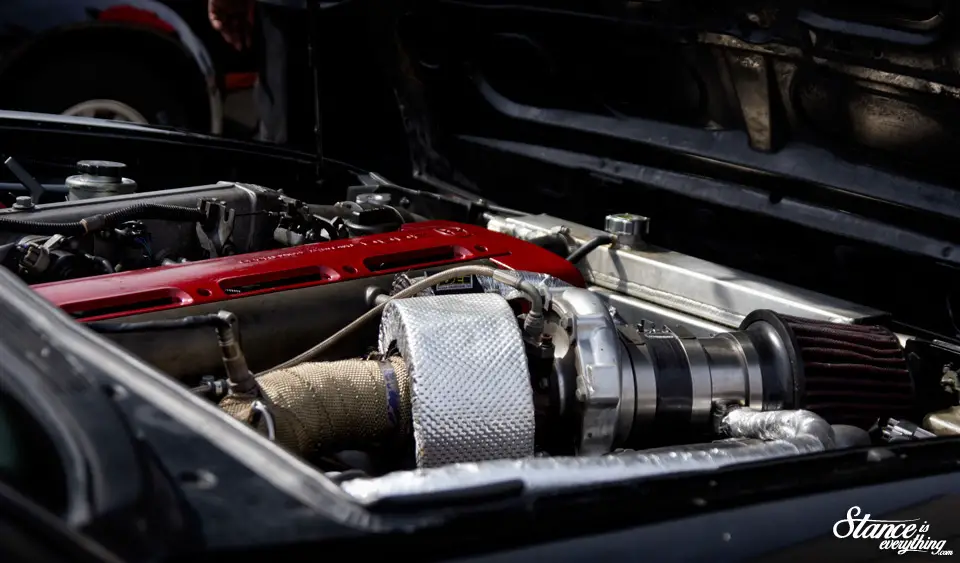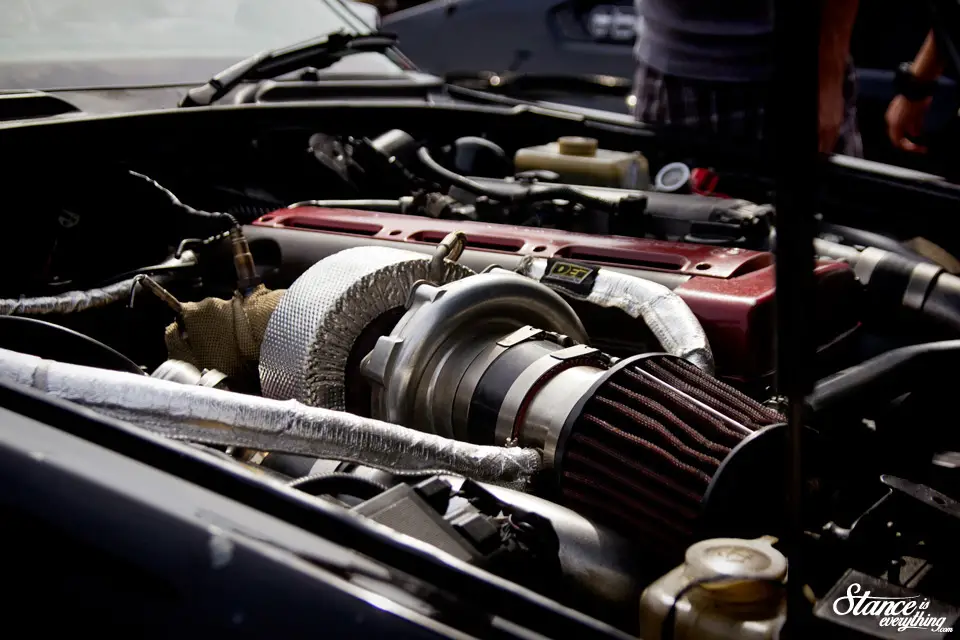 When the hood was popped, and I saw the swiss army knife of Japanese motors, the Toyota 2JZ, things started to make a little sense.

For those of you who may have been curious from the original post the car is auto, which actually suits a barge such as this pretty well.
LSA Powered Eldorado
In the first edition of this post there was a Northstar powered Eldorado on air ride, that car was cool but this CTSV (LSA) powered model is a monster.
Spotted last year at Engineered Automotive –at one of their Cars and Coffee events– this might just be the biggest sleeper on the list.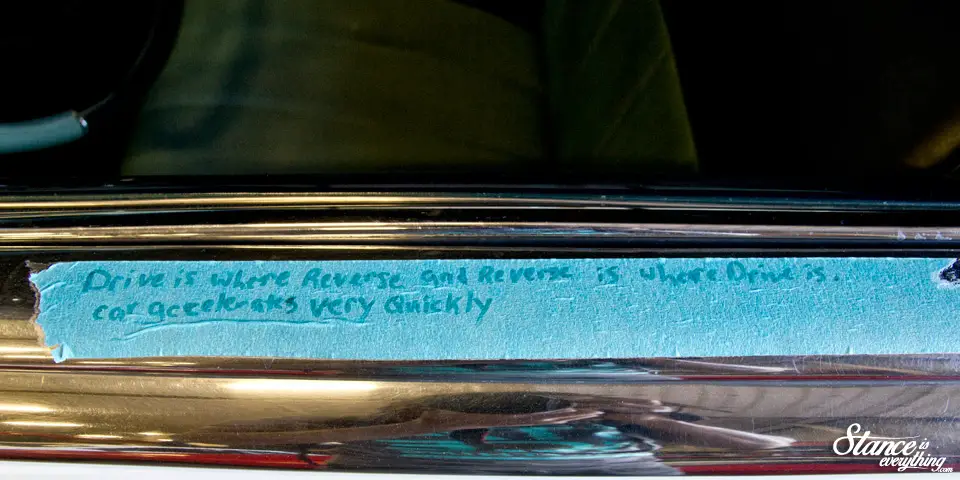 It also comes with a warning taped to the door that reads "car accelerates very quickly", you don't say.
2UZFE '76 Celica
Unlike the 2JZ the 2UZFE isn't a motor that I see a lot of. I think in the years I've been doing this blog I have seen one under the hood of a car competing in the Canadian Sport Compact series and the second under the hood of this Dynamotorsports Celica.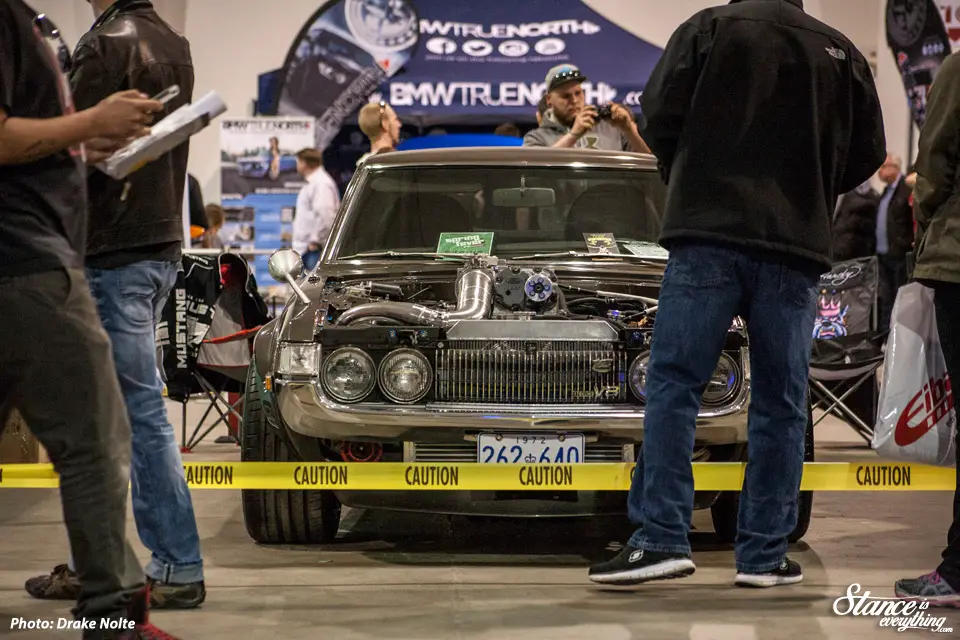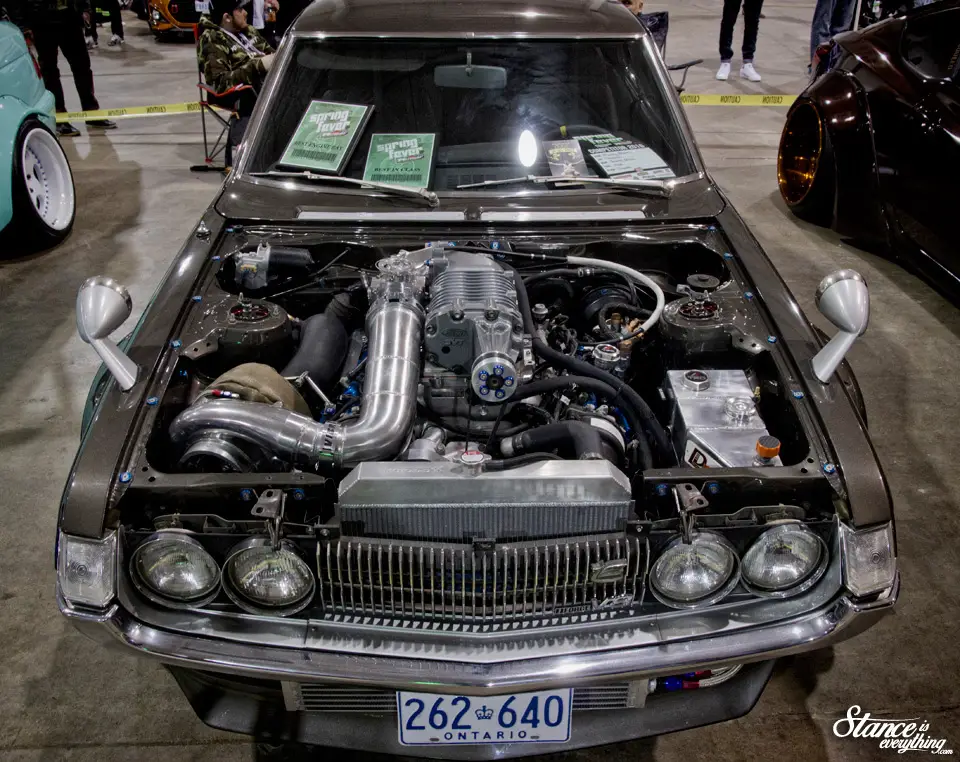 Of course Dynamotorsports, known for their quad digit horsepower cars, didn't stop at just putting the V8 under the hood. They added a turbo and Ford svt supercharger to the mix just because.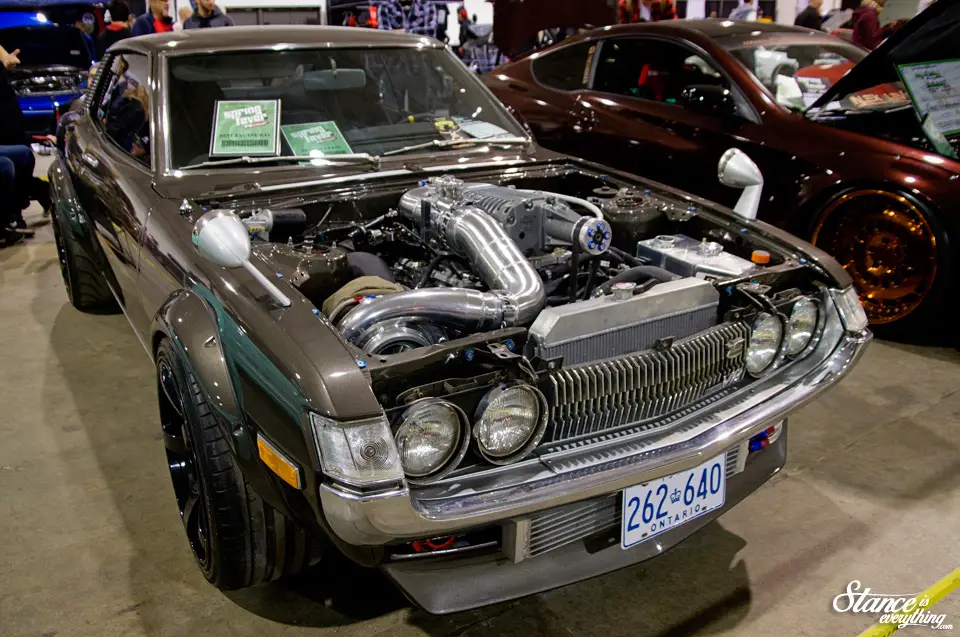 I'm pretty sure this one is buttoned up and on the road now and ready to blow the doors off any and all challengers.
VR6 Triumph Tr6
Posted in a WTF Friday a few months ago this TR6 VR6 spot is probably almost two years old.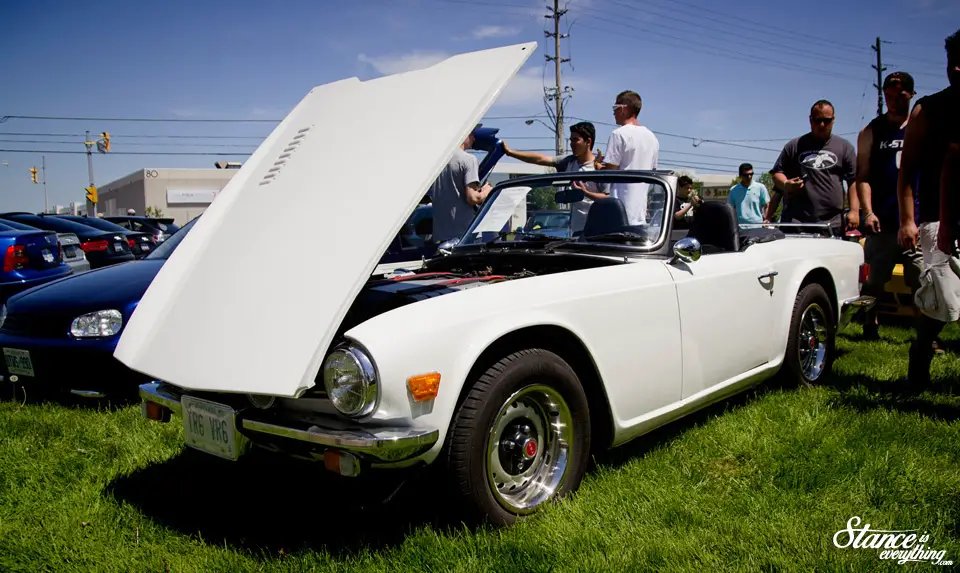 I've only seen the car once, at Spring Fling, but I feel like it is still quietly roaming the streets today flying under everyone's radar, until of course the gas pedal is trounced and that beautiful vr6 sound is heard.
VR6 S14
Trevor finished this unlikely swap a few years ago but even when version 1.0 was 'done' Trevor was never really quite pleased with the car. Last year right after it put down a hair under 700 horsepower he proceeded to take it apart.
Using a blown head gasket as an excuse to start fresh (the car did the 699 pull with said head gasket), things got out of hand quickly and he lopped off the front of the car so he could build a tube front end.
Still plugging way I can't wait to see the next incarnation of this particular s14.
1jz e36
I'm stretching "local" a bit with this one as this car is in Quebec but it was a nice thing to stumble upon at Formula Drift last year.
Though slightly less common the 1JZ is starting to make its way under the hood of a few cars…
1JZ e46
…including GT Custom Exhaust's e46. Build by Mike Catell, who's done a lot of impressive fabrication for a bunch of different builds East of Toronto, this car was running with a BMW motor as recently as three weeks ago.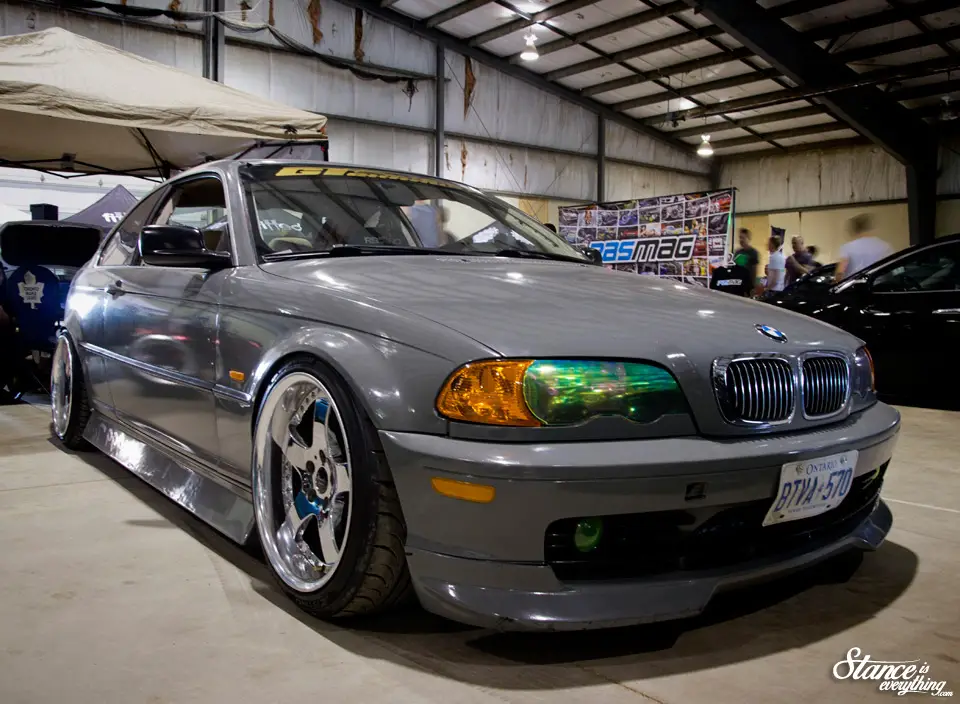 I'm not sure if it was mechanical failure or bordem that triggered this one but either way, out with the BMW motor and in with the Toyota unit.
https://www.instagram.com/p/BHs8FL1hHh-/?taken-by=devocat
LS Miatas
I tried to keep LS motors in this post to somewhat of a minimum but I pretty well failed because they are everywhere. There's a few LS Miatas in the city each with their own take on the swap.
4BT Miata
I have to admit that I didn't think this 4bt Miata project would get finished the first time I heard about it. A crowd funded custom car build? Just seemed like a recipe for disaster.
But it looks like the egg is on my face because the motor is in the car, and from what I've read does run.
It doesn't look a lot like the initial rendering, but I gotta say hats off for getting it there, and in a day apparently, more info on this one can be found here on facebook which is also where the photos came from.
NV Autos 2JZ Subaru
The inclusion of this car shouldn't really be much of a surprise, everywhere the car goes people double take once they realize what they are looking at.
While I have seen a few of the cars above only sitting at shows, or quietly idling I have seen this car driven in anger on many occasions.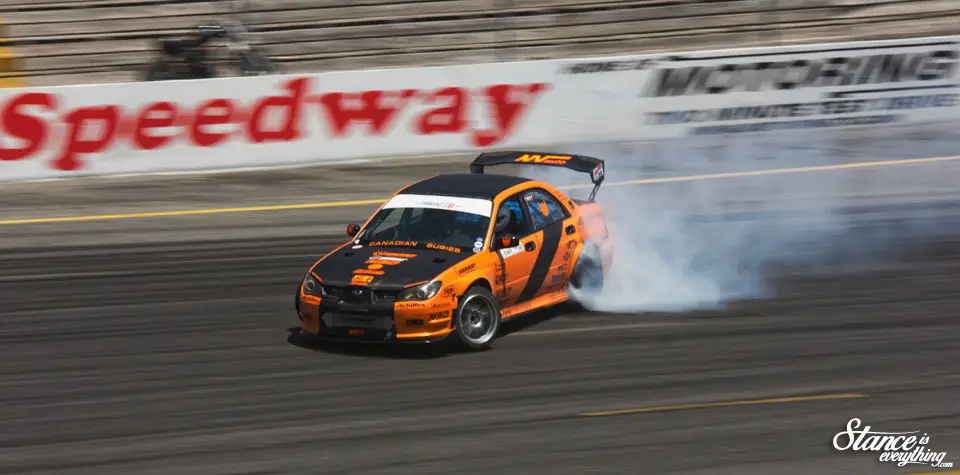 It does what it was designed to do, and does it well, and Riley does a great job of taming the beast at Formula Drift Canada events.

Pat Cry's 2JZ FR-S
That last picture segues well into photos of Pat's 2jz FRS. After tying to make a turbo FA20 do what he wanted Pat switched to a 2JZ swap last season and hasn't looked back, probably because the rear view is full of tire smoke.
Like Riley's car Pat's works very well too and this year they have cranked up the boost to really see how much abuse the car can take.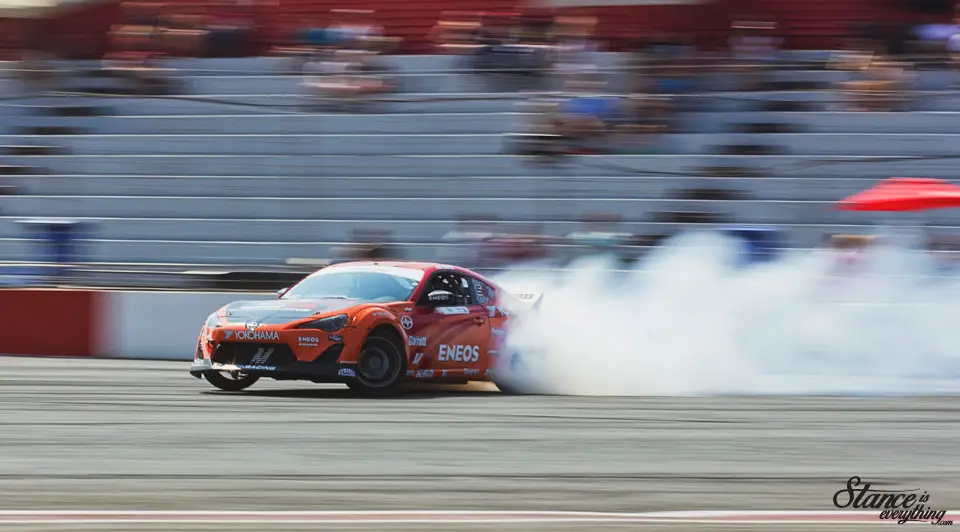 This has led to a few component failures but nothing the Cyrious Garageworks team can't overcome.
LSA Powered 1970 Camaro
Drift cars are far from the only projects Cyrious Garageworks is capable of handling and the World War Z Camaro is proof of that.
Built in-house this LSA powered car is a monster that wears street and show car clothing. Turning heads and dropping jaws anywhere it goes this car simply had to close out this list.
I'll do my best not to let a two-year lapse pass between this and the next one, but, if you feel there's a car I sorely missed do let me know in the comments.